Discover Richmond's Premier Kids Aerial Classes!
Is your child looking to connect to a positive, encouraging, and engaging community? Are they curious to learn more about silks, lyra, and more? Perhaps they're looking to run away to the circus! Well you're in the right place!
Our incredible, professional and qualified instructors at SOUL Aerial & Performing Arts Center have a vested interest in your child's success in aerial and cirque arts. Our Kids Aerial program is expertly crafted to help children grow in confidence and joy while learning in a developmentally appropriate curriculum structure.
We offer two open enrollment periods:
Ready to learn more? Looking to enroll your child? Click the button below and we will connect with you about our Kids Summer Dance Classes!
Enroll Now Get more information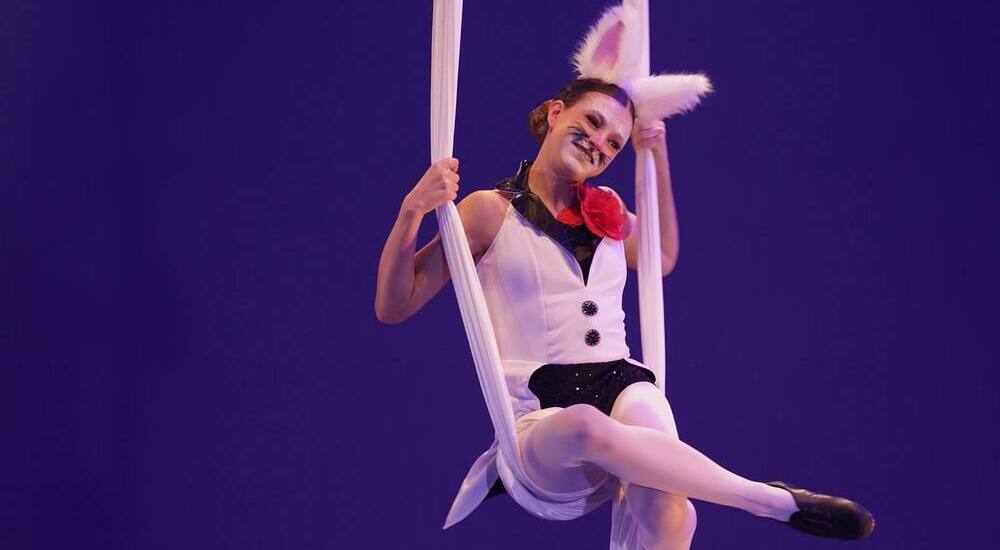 Our Kids Aerial Dance Classes In the Heart of Richmond Are Giving Children a New Sense of Confidence!
We are proud to offer options for different age groups and techniques of Kids Summer Dance Classes. Your child is sure to be filled with wonder and delight in any of our class opportunities!
Fairy & Dragon Flying School (Ages 5-7)
The perfect invitation to our exclusive to pre-aerials & movement fun! A perfect sparkly class for our youngest budding aerialists. Our Fairy & Dragon Flying School is a pre-aerial class that focuses on gaining the flexibility, line, spatial awareness, and conditioning to safely fly through the air. Children will be inspired and find magical moments while preparing for our aerial program. Our program is specifically and developmentally designed to increase the stamina, strength, listening skills, and flexibility it takes to work in an aerial Sling or Lyra. Classes will be filled with delightful dance and gymnastics-based training exercises, games, and more.
Intro to Aerials (Ages 8-11, 12+)
"When your kiddo is ready to take flight!" This class is designed for students to master the foundational techniques and knowledge of silks and lyra while also taking time to build the strength and flexibility needed to progress in the aerial and circus arts. Students will work on the necessary fundamentals of each apparatus and learn many beautiful movements and tricks along the way. This class is offered both during the summer and during our season. All children who are beginners to aerials must take this class before entering any other aerial classes.
Silks & Lyra (Ages 8-11, 12+)
"Ready for the next steps in Aerials!" After Intro to Aerials, it's time to journey into deeper studies in the air. Working with both Silks & Lyra, students will continue their learning from Intro to Aerials and work on aerial conditioning, various climbs and descents and progressions for inverting, entry and exits into the apparatus and so much more. Students are placed in appropriate class by faculty. 2 hour classes are reserved for intermediate to advanced aerialists who are performing in Alice in Wonderland or by permission of faculty only.
Act Creation
Act Creation is a mixed apparatus class for Amethyst and Emerald students only. This class will explore different choreographic elements that work together to create aerial acts. Students will choreograph their own act for recital, with the direction of their instructors.
Intro To Trapeze and Bar Technique
For Emerald and Turquoise students only. This will be a chance for your child to explore a new apparatus! This class will teach the foundations of trapeze and bar work, including some hoop, and build a vocabulary of skills on both apparatuses.

Mini Acro - Acro III
This is a mixed-level acro class for teens in Amethyst and Emerald. This class will work on the fundamentals of acrobatic skills such as handstands and strength through straight arms as well as walkovers, back handsprings, aerials, and other advanced tricks and conditioning.
Aerial Technique
Aerial Technique will focus on refining HOW we do things in the air to make them more efficient, aesthetic, and controlled. Highly recommended to gain body awareness, strength, and technical execution.
Aerial & Acro Conditioning
Aerial & Acrobatic Conditioning will use aerial apparatuses, the ground, and other tools to gain strength for more advanced skills and stronger foundations in the air and on the ground.
Beginner Partner Acro
Beginner Partner Acrobatic students must be comfortable working with others and must have some base strength as well as spatial and body awareness to hold another person safely.
Enroll Your Child For Our Next Season!
We are focused providing a space to cultivate happy, confident children and we would love for your child to experience the magic of our studio! If your child is curious about starting aerial classes, or continuing aerial classes, reach out to us today and join our next available season! Spots fill up fast so don't delay!
Fill out the form below and we would be happy to answer all of your questions!